Mission:
To create a multi-use park which will serve all residents of Scioto County and the surrounding area.
About:
Market Square Park will be located on an approximate 1/3 acre plot of land situated at the corner of Second and Market Streets. Within walking distance to dozens of businesses and residences, its developers hope the park will become the entrance to the bustling Market Street commercial revitalization.
The Market Square Park Endowment Fund will provide maintenance for the multi-use park.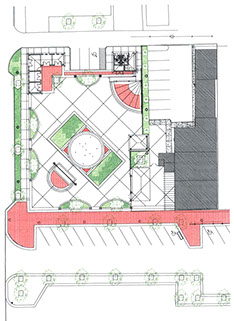 The multi-use park will provide an area for:
an outdoor stage for musical entertainment
a grouping of pop-up fountains
a vendor village for local merchants
a place to feature food trucks
green spaces for farmer's markets and public events
Market Square Park, LLC:
Park's Location: 203 Market Street, Portsmouth, Ohio 45662
Phone: (740)354-4612