Scioto Foundation's UCAN Internship
To be eligible for an UCAN Internship, students must indicate an interest in an internship on their most recent Scioto Foundation Scholarship application. Those who indicate an interest will receive an application in November with a deadline to apply at the end of the following January.  A limited number of students will have the opportunity to participate in a five-week work environment at a local nonprofit organization or governmental agency.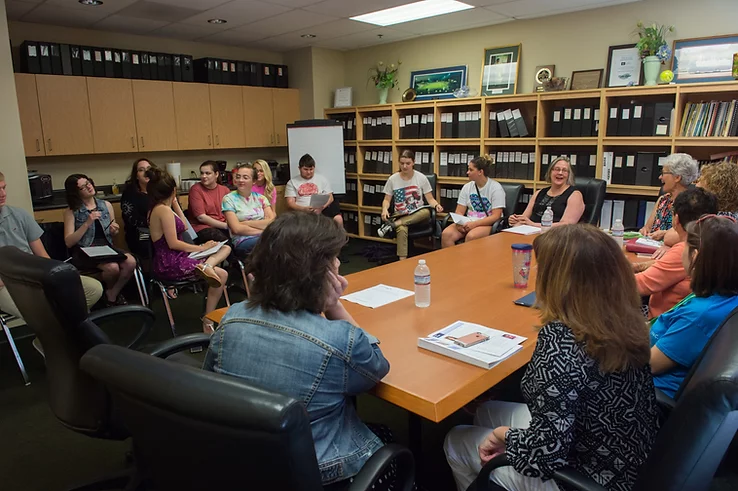 The objectives of the internship are to:
Offer college sophomores, juniors, seniors, and recent graduates the opportunity to participate in a meaningful career-related work experience,
Provide students with first-hand knowledge of Scioto County's public sector, its role within, importance to and impact upon our community,
Assist local nonprofits with short-term projects; and
Expose students to career paths available within nonprofit organizations and/or governmental agencies.
October - January
Interns are invited to apply to the program.
The deadline to receive applications is January 31.
March
Selection of interns is made.
Students and hosts will be notified by March 31.
April
Students and hosts will be recognized during the Scioto Foundation's Annual Meeting.
May/June
The 5-week internship will take place.
The internship for 2024 will begin on the third week of May and conclude in mid-June.
The Scioto Foundation requires a formal application from students and host organizations in order to create a valuable internship experience.  The purpose of the application process is to "hire" the best student for the assigned internship.
The internship for 2024 will begin on the third week of May and conclude in mid-June.
Student Application Guidelines
To be considered for a Scioto Foundation's UCAN Internship, a student must be:
A graduate of a Scioto County, Ohio High School,
A sophomore, junior, senior, or graduate student at an accredited institution of higher learning (including vocational study, community college study, college, or university) with a minimum of a 2.0 or higher grade point average,
Willing to participate in a program of civic education and summer employment,
Keenly interested in working in a nonprofit organization or government agency, with placement at the Foundation's discretion; and
Committed to employment during the Internship period–intermittent participation is not possible – while interacting in a positive manner with other program interns and staff at the assigned workplace.
Students must complete the online application that will be sent to the email provided on the application. The deadline to submit is January 31.
Students of any major and background may apply for consideration; graduate students may also apply. While best efforts will be made to match employment placements with interns' primary interests, final placements are contingent upon the availability of host organizations. For some host organization placements, students may be required (and therefore must be willing) to take and to pass a background check.
Internship selection will be made based upon the following factors:
Preference will be given to juniors and above.
Potential to successfully complete the program,
Interest in contributing positively to the long-term betterment of southern Ohio, and
Desire to work and live in southern Ohio.
Interviews may be required prior to final selection. Placements begin the third week of  May following a program orientation. Work assignments will conclude mid-June. 
Interns will receive compensation for 35 hours per week during the five-week Internship. The program will operate from mid-May to mid-June in 2024. Students should not plan an absence from the program. Host organizations will document assignments and work on a weekly basis.  Students will work at the internship site Monday through Thursday.  Friday morning interns must attend a weekly 3-hour seminar at the Scioto Foundation office or through a zoom call. Interns must not disclose their salary to employees at their worksite.
Interns may also seek to make their own arrangements with their college or university if they desire to receive academic credit. The Foundation will not be responsible for academic credit arrangements but will cooperate to the fullest extent feasible in supporting a student who wishes to pursue such an arrangement.