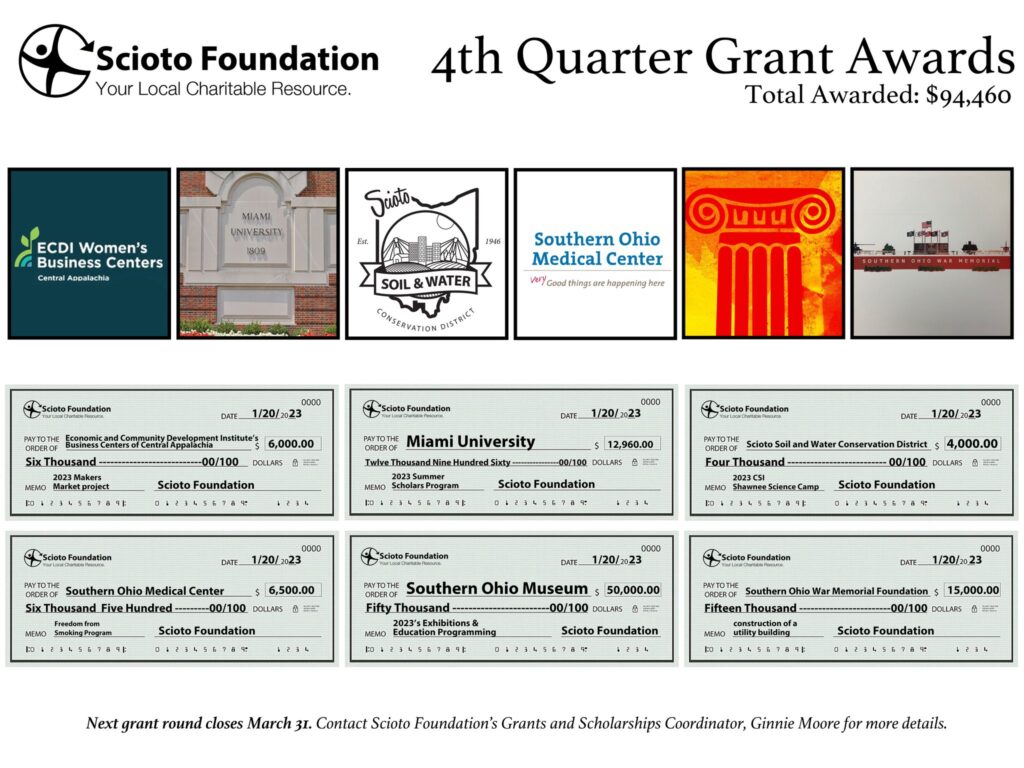 The Scioto Foundation has announced the funding of grants for six local community nonprofit organizations totaling $94,460 for the fourth quarter of 2022. Projects funded included the fields of economic development, education, natural resource conservation, healthcare, art/cultural and honoring war casualties.
A grant of $6,000 from various unrestricted funds was given to the Economic and Community Development Institute, Inc. to support the 2023 Makers Market project. The Makers Market, which is held over six weekends in the winter and spring, offers "maker" entrepreneurs in the area an opportunity to sell their products, find new customers and increase their revenue. The SF grant will help to cover supplies and occupancy and storage expenses.
Miami University received $12,960 from the Bess and Marie Pixley Fund to underwrite the costs for twelve Scioto County students to attend the 2023 Summer Scholars Program. The program offers an opportunity for an immersive, intensive exploration of a particular field of study through close engagement with faculty and integrated curricular, co-curricular and residential experiences.
The Scioto Soil and Water Conservation District was funded for $4,000 from various unrestricted funds to cover the contracted services of the Boy Scout Camp OYO rental which will provide space, equipment, food and accommodations for campers during its 2023 CSI Shawnee Science Camp.
The Southern Ohio Medical Center was awarded $6,500 from the Edmund J. Kricker Advised Fund for its Freedom from Smoking Program, a series of five free courses offered to the community to provide assistance and counseling to those trying to quit tobacco. The program furnishes written materials, counseling, quit kits and medications to adults over several sessions.
A grant of $50,000 went to the Southern Ohio Museum from the James & Tabitha Pugh Fund to underwrite 2023's Exhibitions & Education Programming centered on major group exhibitions, solo shows of contemporary art and artworks from the permanent collection. An array of educational programs, tours, lectures and gallery talks will augment and interpret themes and delve into the creative process behind the art on display.
The Southern Ohio War Memorial Foundation, Inc. received $15,000 from various unrestricted funds to assist the organization with the construction of a utility building for the Southern Ohio War Memorial. The lockable storage and utility building is designed to house electrical and cleaning equipment, a mower and plumbing fixtures needed for the memorial wall honoring veterans from eight counties in southern Ohio who were killed in action beginning with WWI. The site is located two miles north of Lucasville on approximately five acres of property donated by the Scioto County Commissioners.
The Scioto Foundation annually awards grants on a quarterly basis usually in categories of the arts, education, community development, social services and health. Application deadlines are March 31, June 30, September 30 and December 31.
SF grant applications and guidelines may be found on the Scioto Foundation's website, www.sciotofoundation.org.