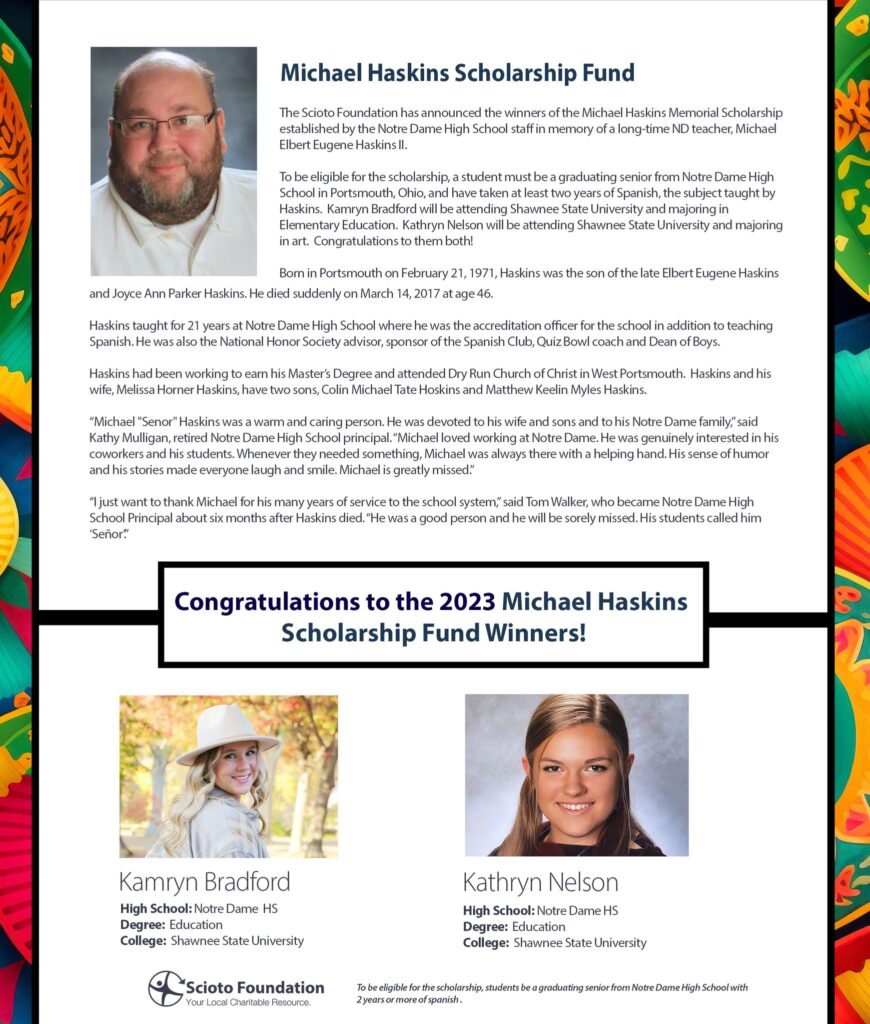 Congratulations to Kamryn Bradford and Kathryn Nelson in receiving the Michael Haskins Scholarship Fund.
The Scioto Foundation has announced the winners of the Michael Haskins Memorial Scholarship established by the Notre Dame High School staff in memory of a long-time ND teacher, Michael Elbert Eugene Haskins II.
To be eligible for the scholarship, a student must be a graduating senior from Notre Dame High School in Portsmouth, Ohio, and have taken at least two years of Spanish, the subject taught by Haskins. Kamryn Bradford will be attending Shawnee State University and majoring in Elementary Education. Kathryn Nelson will be attending Shawnee State University and majoring in art. Congratulations to them both!
Born in Portsmouth on February 21, 1971, Haskins was the son of the late Elbert Eugene Haskins and Joyce Ann Parker Haskins. He died suddenly on March 14, 2017 at age 46.
Haskins taught for 21 years at Notre Dame High School where he was the accreditation officer for the school in addition to teaching Spanish. He was also the National Honor Society advisor, sponsor of the Spanish Club, Quiz Bowl coach and Dean of Boys.
Haskins had been working to earn his Master's Degree and attended Dry Run Church of Christ in West Portsmouth. Haskins and his wife, Melissa Horner Haskins, have two sons, Colin Michael Tate Hoskins and Matthew Keelin Myles Haskins.
"Michael "Señor" Haskins was a warm and caring person. He was devoted to his wife and sons and to his Notre Dame family," said Kathy Mulligan, retired Notre Dame High School principal. "Michael loved working at Notre Dame. He was genuinely interested in his coworkers and his students. Whenever they needed something, Michael was always there with a helping hand. His sense of humor and his stories made everyone laugh and smile. Michael is greatly missed."
"I just want to thank Michael for his many years of service to the school system," said Tom Walker, who became Notre Dame High School Principal about six months after Haskins died. "He was a good person and he will be sorely missed. His students called him 'Señor'."