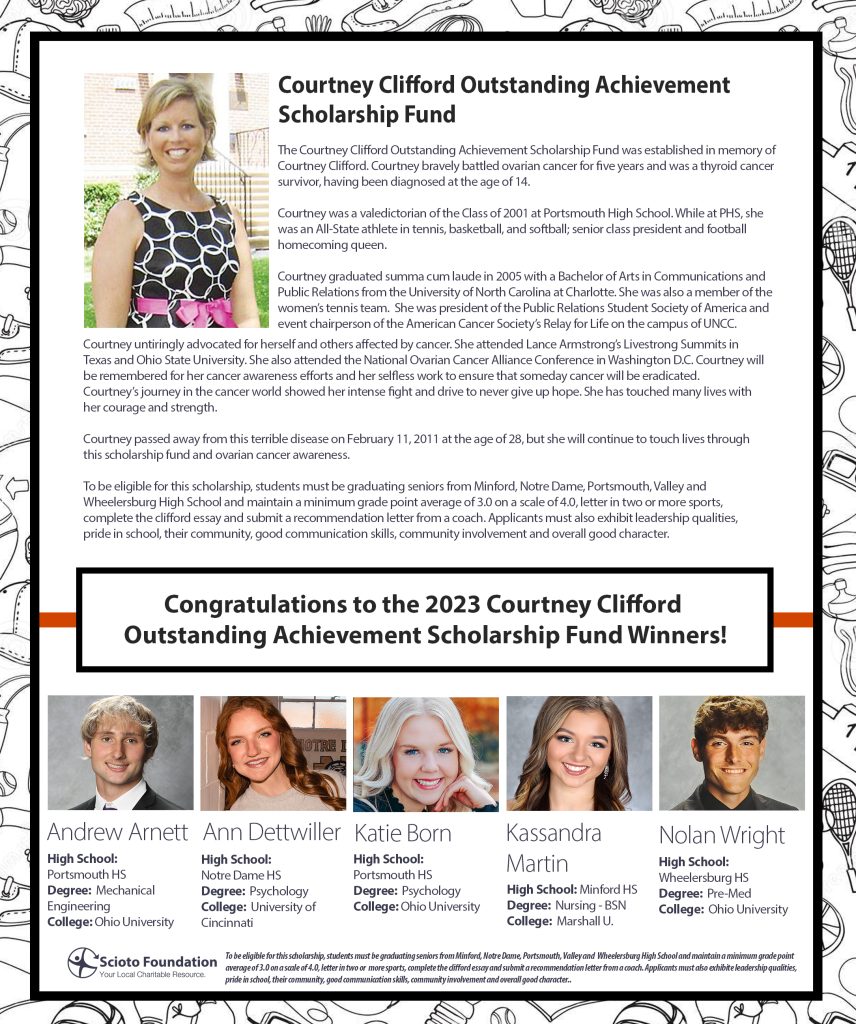 Congratulations to the winners of the 2023-'24 Courtney Clifford Outstanding Achievement Scholarship Fund, Nolan Wright, Andrew Arnett, Kassandra Martin, Ann Dettwiller and Katie Born. Each student will receive $1,000 from this fund.
The Courtney Clifford Outstanding Achievement Scholarship Fund was established in memory of Courtney Clifford. Courtney bravely battled ovarian cancer for five years and was a thyroid cancer survivor, having been diagnosed at the age of 14.
Courtney was a valedictorian of the Class of 2001 at Portsmouth High School. While at PHS, she was an All-State athlete in tennis, basketball, and softball; senior class president and football homecoming queen.
Courtney graduated summa cum laude in 2005 with a Bachelor of Arts in Communications and Public Relations from the University of North Carolina at Charlotte. She was also a member of the women's tennis team. She was president of the Public Relations Student Society of America and event chairperson of the American Cancer Society's Relay for Life on the campus of UNCC. Courtney was also involved with the Catholic Campus Youth Ministry.
Following graduation from UNCC, Courtney was employed by American Tennis Professionals (ATP) in Ponte Vedra Beach, Florida. Shortly following her employment, she was diagnosed with Ovarian Cancer and returned home to begin the fight of her life. Courtney untiringly advocated for herself and others affected by cancer. She attended Lance Armstrong's Livestrong Summits in Texas and Ohio State University. She also attended the National Ovarian Cancer Alliance Conference in Washington D.C. Courtney will be remembered for her cancer awareness efforts and her selfless work to ensure that someday cancer will be eradicated.
Courtney's journey in the cancer world showed her intense fight and drive to never give up hope. She has touched many lives with her courage and strength.
Courtney passed away from this terrible disease on February 11, 2011, at the age of 28, but she will continue to touch lives through this scholarship fund and ovarian cancer awareness.
To be eligible for the scholarship, students must be graduating seniors from Minford, Notre Dame, Portsmouth, Valley and Wheelersburg High School and maintain a minimum grade point average of 3.0 on a scale of 4.0, letter in 2 or more sports, submit a recommendation letter from a coach and complete the essay describing why you are deserving of this scholarship and how your life parallels Courtneys. Applicants must also exhibit leadership qualities, pride in school, their community, good communication skills, community involvement and overall good character.
Since the creation of this scholarship fund at Scioto Foundation in 2012, 52 Scioto County high school graduates have been awarded $50,500 in scholarships, while maintaining a 12/31/22 year-end market value of $133,147.97. Through the power of endowments, this fund continues Courtney's legacy by helping local youth achieve their goals.
The Scioto Foundation scholarship application opens at the end of the year and closes a few months after. College-bound athletes who are graduating seniors at the time of submission from Minford, Notre Dame, Portsmouth, Valley and Wheelersburg high schools are encouraged to apply.
For more information about this scholarship fund, other funds at the foundation, or the Scioto Foundation scholarship application, please contact Ginnie Moore, Grant and Scholarship Coordinator by emailing ginnie@thesciotofoundation.org or phoning the office at (740)354-4612. Those wishing to make contributions to this fund may do so at any time. Online donations can be made by visiting www.sciotofoundation.org.