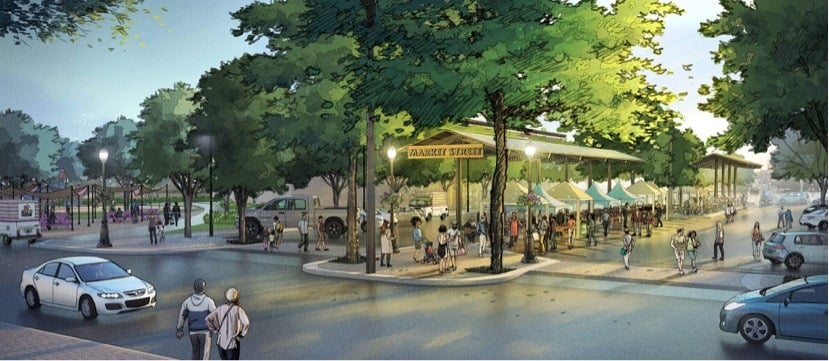 In 2021, the Scioto Foundation Board of Governors selected the City of Portsmouth to receive $50,000 to support the creation of an outdoor public space known as the Market Street Median Pavilion.
A priority project in the Portsmouth City Master Plan, the Market Street Pavilion has been erected on the Market Street median and will include a new stamped concrete foundation. The design will align with the historical appropriateness of the Boneyfiddle District and complement the city's downtown charm, as previously described by Portsmouth Development Director Tracy Shearer. The project will create a social center for activity and celebration, providing a shelter for eating, socializing and relaxation.
The Scioto Foundation will once again set aside $50,000 for the Rethinking Downtown Portsmouth Grant Initiative. Nonprofit organizations and local government entities based in the Scioto County area are encouraged to apply. Deadline to submit is, June 30, 2023 at 4:30PM.
To be eligible, grant applications must address concepts outlined in the "Elevate Portsmouth Master Plan (view here: https://www.sciotofoundation.org/MKSK.pdf )," or the "City of Portsmouth Comprehensive Housing Market Study" (view here: https://www.greaterohio.org/publ…/portsmouth-housing-study ). Copies of the plans are available on request from the Scioto Foundation.
$50,000 will be available for either:
• Direct project support or
• Planning, and/or feasibility studies.
Applicants must fill out the standard Scioto Foundation Grant Application. Proposals will include:
• A narrative describing what the project is, how it will be accomplished, and how it will impact the community.
• A detailed schedule of events, including both a start and expected finish date for the project.
• A complete budget, detailing both revenues and expenses, including how much funding is needed and funding amounts from other sources (if applicable), and a demonstration of how funds will be spent during the completion of the project.
Those wishing to apply can download a copy of the grant application here: https://www.sciotogives.org/docs/ApplicationFormrevised.doc.
The deadline to submit your grant application to the Scioto Foundation is Friday, June 30, 2023 @ 4:30pm. Please submit your application in a pdf format and e-mail it to: kim@thesciotofoundation.org. Please contact the foundation to be sure your application has been received.
The Board of Governors of the Scioto Foundation will determine grant awards in July of 2023.
Recipients will be expected to submit a final report evaluation form after project completion.
For more information, contact the Scioto Foundation Executive Director, Kim Cutlip at 740-354-4612, or by email at kim@thesciotofoundation.org.