Written by Kay Bouyack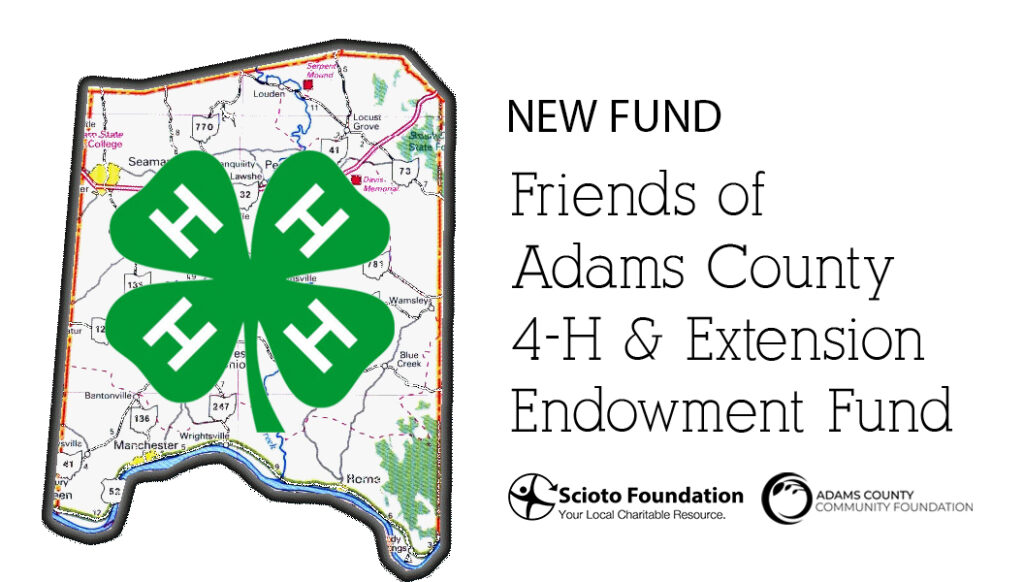 A new organizational fund, The Friends of Adams County 4-H & Extension Endowment Fund, has been established at the Adams County Community Foundation in partnership with the Scioto Foundation.
The Friends of Adams County 4-H & Extension was established as a 501c3 in February of 2021. The new fund has been created to serve the common interest in the welfare of the southern Ohio area and to serve charitable, scientific or educational purposes for the benefit of the Friends of Adams County 4-H & Extension or affiliated agencies if any, as stated by the fund document. The purpose of the endowment is to provide current income and long-term protection for the operation of the Friends of the Adams County 4-H & Extension.
"There had been discussion for some time about the need to raise funding to provide additional support for 4-H and Extension programs in Adams County," said David Baker, president. "Our priority is supporting our youth through 4-H and strengthening our community through our various educational activities. The initial funding was a donation of $13,000 from our Adams County 4-H Advisory Committee. This money was raised by our 4-H Clubs and community supporters operating a food booth at the Adams County Fair, an annual fundraiser for our 4-H program."
"After much consideration, our Friends of 4-H Board made the decision to adopt a long-term strategy to grow a fund that will provide significant income in the future to enhance our 4-H and Extension Programs in Adams County. This will initially be in granting scholarship opportunities to our graduating seniors, but in time, provide other resources," Baker added.
"By Partnering with the Adams County Community Foundation, we believe we will gain more community awareness and involvement in achieving our long-term goals. I am one of those individuals that will plant a tree, knowing I will never sit in the shade of that tree," Baker said.
Contributions to the Friends of the Adams County 4-H & Extension Fund from families, friends, supporters of the 4-H or the general public may be made at any time to the Scioto Foundation, P.O. Box 911, Portsmouth, Ohio 45662. Donations may be in the form of gifts of cash, securities or property.
Additional information about the Friends of the Adams County 4-H & Extension Fund or other planned giving opportunities at the Scioto Foundation may be obtained by contacting Patty Tennant, Program Office – Donor Services, or SF Executive Director Kim Cutlip at (740) 354-4612.